Readers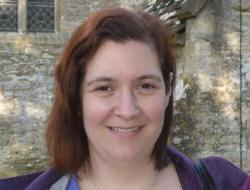 Reader: Helen Caine
I was born in Peterborough and lived in Rutland for 4 years then moved first to Cirencester for a couple of years before moving to Siddington in 1977.
I joined the choir at St. Peter's when I was 9 years old, and was married to my husband Stuart there in 1993.
I was licensed as a Reader in Gloucester Cathedral on September 25th 2010.
I now live in Cirencester with Stuart and our three children (Jacob, Samuel and Daniel) and I work part time at Cirencester Hospital in admin.
Reader: Bill Irving
I trained to be a teacher at St. Paul's College, Cheltenham and worked at Chesterton Primary School for 19 years.
I also trained as a Church of England Reader and have been heavily involved in the ministry of St. Peter's Church, Siddington since 1985.
Every Tuesday, along with other members of the Church, we enact stories from the Bible using costumes and props for assembly in school. This is called Open Book.
I am a member of Cirencester Ramblers, Stratton Drama Group, Watermoor Community Group, Probus and I helped found the Living Memory Historical Association, a small charity which cares for and runs the Cirencester Air Raid Shelter Museum.
As a member of the Board of Governors of Siddington School I am committed to the School and the Church in Siddington as part of the benefice.
Reader: Liz Pearse
I have lived in South Cerney since 1968.
I was licensed as a reader in 2012 in Gloucester Cathedral. I work in all the benefice churches and I am part of the Bereavement Support group, the Parish neighbours and the Local Ministry team.
I work for National Milk Records and for relaxation I am a campanologist, a cyclist, a dog lover and the exercise that goes with it. I have been known to play the drums occasionally.
Reader: Joan Townsend
I am married to Tony and we have two children and one grandchild.
I have lived in South Cerney since 1966.
I was Licensed as a Reader in Tewkesbury Abbey in 2003.
In 2011 I became a Spiritual Director and am part of the Spirituality Network for Gloucestershire and also the Bristol Diocese.
I am in the Benefice Local Ministry Team and am a member of Prayer Ministry Team and Bereavement Group.